At Assiniboine Dental Group in Winnipeg, our general dentists offer treatment plans for patients suffering from the common jaw joint disorder, TMD. 
What is TMD?
The temporomandibular joint (TMJ) is a hinge that connects your jaw to the temporal bones of your skull and lets you move your jaw up-and-down and side-to-side. Temporomandibular joint disorder (TMD) occurs when there are issues with the jaw and the muscles in your face that cause symptoms like jaw pain and headaches. 
Restore Your Jaw Joint Health
Your jaw joint is complex, and its movements are essential for you to eat and speak. When your jaw joints are balanced, they function smoothly, but when your teeth and/or jaw are misaligned TMD may occur.

If left untreated, TMD can lead to chronic pain and headaches, bone loss, gum tissue changes and loose teeth.
Treatment Options in Winnipeg
At Assiniboine Dental Group in Winnipeg, we have the latest technology in jaw functionality. Using digital scanners and xrays, we can track and analyze your jaw movements to help determine where your jaw issues might be coming from.
Using this technology, we can also fabricate an orthotic appliance that you wear to help your jaw joints and muscles relax, and ease the effects of teeth grinding.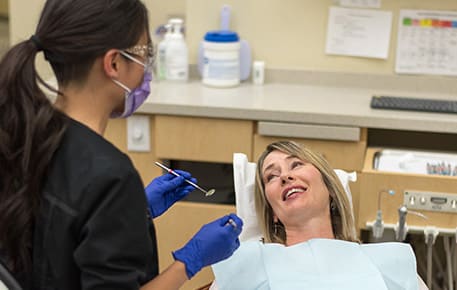 TMD Symptoms
If you are experiencing any of these common symptoms, you may be suffering from TMD.
Headaches & Migraines
Teeth Grinding
Ringing in the Ears Jaw, Face and/or Neck Pain
Dizziness