At Assiniboine Dental Group in Winnipeg, we're committed to providing quality dental care with the help of our dental technology.
Amazing Advances for Your Smile
The technologies at Assiniboine Dental Group are designed to help you experience a greater level of comfort and less time in the chair during your dental appointments. 
From diagnostics and planning, to treatment and restoration, dental technology plays a key role in every element of your dental health experience.
Watch the video and read below to learn more about the dental technologies at our dental office. 
Digital Intraoral Scanners
We use digital intraoral scanners to produce highly accurate digital models of your oral structures in 'real time' while you are in the dentist chair. Digital scanners allow us to do away with traditional impression materials for a more comfortable experience.
Infra-red Transillumination
Digital scanners use infra-red transillumination to look through your teeth to see if you have cavities developing, using only a special light frequency and no x-ray radiation.
Uses for Digital Scanners
Advanced Treatment Planning
Digital scans help your dentist create accurate 3D dental models for enhanced record keeping and treatment planning.
They can help your dentist plan a variety of treatments including orthodontics and Invisalign, jaw joint pain and TMD treatment, as well as sleep apnea and snoring treatment.
Digital Smile Design
Digital scans help us customize what your new smile will look like after orthodontic or cosmetic dental treatment, helping us achieve a smile you love in the end. 
Wellness Scans
Teeth grinding and jaw clenching (also called bruxism) is often related to stress or anxiety.
People who grind their teeth and clench their jaw tend to be unaware that they're doing it because it often happens during sleep while concentrating or under stress.
Digital wellness scans allow us to digitally identify teeth grinding or clenching patterns in our patients. We can also monitor the progression of grinding, and of gum recession, too. 
If we determine that you do grind your teeth, we can use your scan to fabricate a protective dental appliance in our in-house lab.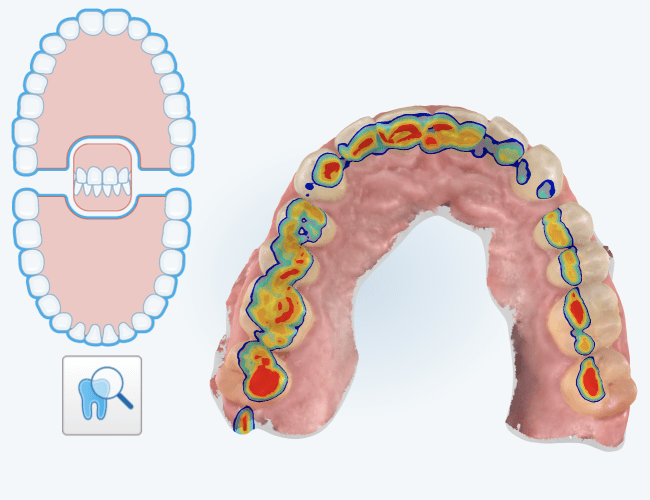 3D Printing
Using digital scans and 3D printing technologies,  our dental team now has the ability to fabricate oral appliances, surgical guides and clear orthodontic aligners right here in our office.
Our 3D printer can also print 3D prototypes for our digital smile designs.
This allows patients to see what their smiles are going to look like at the conclusion of treatment, and helps dentists provide more accurate results.
This is an emerging trend in dentistry that is very exciting for dental professionals, and with the new advanced dental materials that are continually being produced, patients benefit from a more streamlined, comfortable dental experience.
3D Digital X-Rays
Digital x-rays are used to produce extremely detailed images of your teeth, gums and other oral structures.
Unlike traditional x-rays, they require no chemical processing and significantly cut down the amount of radiation a patient is exposed to. 
Your dentist will place a small electronic sensor in your mouth to capture the images, which can be pulled up instantly on a computer screen.
This advanced 3D imaging allows us to plan complicated oral surgeries and treatments like dental implants. 
Cone Beam Cat Scan
Cone beam computed tomography (CBCT) is a special type of x-ray machine that generates 3D images of dental structures, soft tissues, nerve paths and bone in the craniofacial region in a single scan.
Images obtained with CBCT allow for more precise treatment planning, including analyzing your airway for snoring and sleep apnea treatment. 
Same-Day Crowns, Inlays & Onlays with CEREC
We have a state-of-the-art dental lab and in-house dental ceramists and technicians.
CEREC uses CAD/CAM (computer-aided design/computer-aided manufacturing) technology to take digital impressions of your teeth quickly.
It can then fabricate precisely fitted dental restorations like dental crowns, inlays, and onlays using advanced dental ceramics.
When combined with our digital scans, CEREC allows us to complete many dental procedures from start to finish all on the 'same day'.
In addition, our combined technologies can eliminate the need for traditional putty impressions or temporary crowns, resulting in an overall more comfortable and efficient dental treatment process.
Airway & Sleep
Assiniboine Dental Group offers a variety of dental appliances to help patients manage and reduce the symptoms of snoring and sleep apnea, as well as other airway and sleep related disorders.
In our lab, we can create custom-made mouth guards to fit your unique smile, designed to protect your teeth during both sleep and sport.
OptiSleep
OptiSleep is an innovative therapeutic appliance for the treatment of obstructive sleeping apnea and snoring.
OptiSleep custom-made appliances feature a slim design for patient comfort high, and are durable, odorless, tasteless and biocompatible.
TMD
Temporomandibular joint disorder is an often painful and debilitating disorder or the jaw joint.
It is usually caused by injury to the jaw, jaw joint, or muscles of the head and neck, teeth grinding/clenching, dislocation of the soft cushion between the ball and socket, arthritis, or even stress.
With the help of our digital scanners and x-rays, we can track and analyze your jaw movements to determine what might be causing your jaw issues.

Your dentist may suggest wearing an orthotic appliance (night mouth guard) to help your jaw joints and muscles relax, and ease the effects of TMD.
Mouth guards are made of clear plastic material and fit over the biting surfaces of the teeth so that you bite against the guard instead of your teeth.