At Assiniboine Dental Group in St. James, Winnipeg, we are proud to offer Invisalign clear aligners to help you achieve a straighter smile.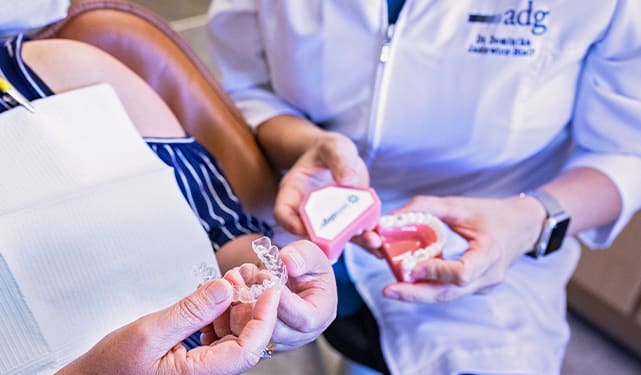 Straighten Your Smile With Invisalign
Invisalign is a series of clear, custom aligners that can help you straighten your teeth without traditional braces. With minimal disruptions to your daily routines, Invisalign is a discreet, convenient option for busy teens and adults.
Contact us to meet our Dentists and get started with Invisalign!
How Invisalign Works
Invisalign clear aligners straighten your teeth just like traditional braces, only without metal and wires.
Using digital scanners and 3D imaging technology, your orthodontist will create an Invisalign treatment plan specifically for you.
A series of custom Invisalign aligners will be made to fit your teeth during each stage of your treatment. You will wear each aligner for about two weeks before it is replaced by the next one in the series. This process will continue until your teeth are in their new positions. 
The best part? During your treatment you can remove the aligners to eat, drink, brush and floss, causing minimal disruption to your day-to-day life. 
Invisalign FAQs
Read the answers to some frequently asked questions about Invisalign clear aligners. 
Request An Invisalign Appointment
Please fill out the form below to request an appointment with our orthodontist to see if Invisalign is right for you.