At Assiniboine Dental Group in St. James, Winnipeg, our orthodontist offers braces and Invisalign® clear aligners to help you achieve a straighter smile. 
About Orthodontics in St. James
Orthodontics is a speciality of dentistry that focuses on the treatment of irregularities in the teeth (especially of misalignment and malocclusion) and jaws. An orthodontist is a dentist who specializes in this field of dentistry. 
Orthodontic Treatment Options in St. James
Invisalign Clear Aligners
We are proud to offer Invisalign. These clear, custom orthodontic aligners can help you straighten your smile.
Braces
Braces apply continuous pressure to the teeth over a period of time, slowly moving them into their new, corrected positions.
As pressure is applied and the teeth move, the bone changes shape to accommodate the new positions of the teeth.
Traditional metal braces have been used for decades to straighten teeth. In recent years, advances in orthodontic treatment have resulted in braces that are low-profile, more comfortable and easier to care for.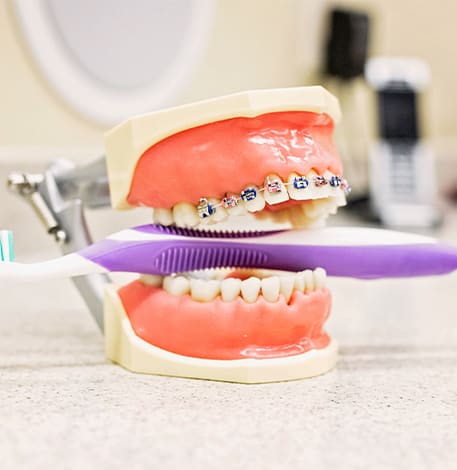 Request An Orthodontic Appointment Today
Meet Dr. William Wieler
Dr. William Wieler is delighted to have joined the team at Assiniboine Dental Group. Dr. Will was taught to always work hard with honesty and never give up. In this spirit, he was raised and became the professional he is today. With more than 15 years of experience in Orthodontics, Dr. Will is a proud Fellow specialist in Orthodontics at the Royal College of Dentists of Canada, working with absolute passion, treating his patients with excellence and professionalism, aiming foremost toward their satisfaction and well being.
Fluent in English, German and Portuguese, his multicultural background was a perfect fit to settle down in Winnipeg, where people welcomed him and his family very warmly and made him feel at home.
After graduating from dental school in 1999, he obtained his MSc in Orthodontics degree in 2002. Continuously seeking for professional improvement and new challenges, Dr. Will was accepted at the University of Alberta in Edmonton for the 2017-2018 program, where he refreshed his knowledge and was also invited to help in the undergrad dental school.
Back to Winnipeg in 2018, Dr. Will was invited to be a part-time instructor at University of Manitoba, teaching Orthodontics to 3rd and 4th year dental school students. This has been a way for him to share the knowledge and experience he has acquired in his career to the next generation.
Besides his profession, Dr. Will loves to spend time with his wife Andressa and their two pre-teen children, Fernanda and Patrick. He also enjoys throwing a ball around with his two wire haired dachshunds – Thor and Lady.
In his spare time, Dr. Will enjoys barbecuing at home, watching the Jets, riding his bike and Jiu Jitsu, for which he's achieved a purple belt.