The dentists, specialists and team at Assiniboine Dental Group is always accepting new patients to our Winnipeg dental office. 
A Friendly Welcome to New Patients
Our team of highly trained dental professionals believes in preventive care. We will diagnose, treat and help prevent any oral health issues. We are committed to providing you with the quality dental care you deserve.
To learn what you can expect at your first appointment with us, and fill out our new patient form, read on below.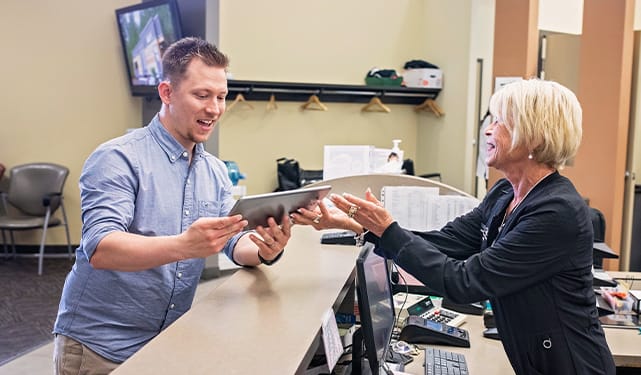 Your First Visit
Your first appointment will take about 90 minutes. Please arrive about 10 minutes early so that you have time to fill out the new patient forms and complete the demographic information below before your first appointment.
You and your dentist will then discuss your medical history and oral health needs. Your dentist will also compete a thorough exam of your gums, teeth, bite and jaw.
Based on your medical history and exam, your dentist will develop a comprehensive dental treatment plan for you. 
Patient Care Coordinators
Our team of Patient Care Coordinators is dedicated to supporting you. They can provide assistance with your insurance and financial options, and help keep you on the path to good oral health.
New Patients
Please complete the form below prior to your first appointment.